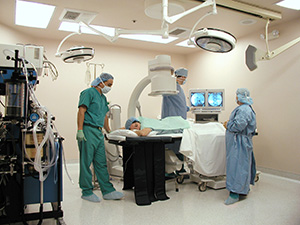 Interventional Neuroradiology is a catheter-based medical subspecialty that uses image guidance to perform minimally invasive treatments in the head, neck, and spine. Often these treatments eliminate the need for open surgery. Diseases and conditions typically treated by neurointerventionalists include:
Acute stroke
Brain aneurysm and arteriovenous malformation (AVM)
Dural and carotid-cavernous fistulae
Great vessel, cervical, and intracranial atherosclerosis (e.g., carotid stenosis)
Vascular tumors of the head and neck such as meningioma, juvenile nasopharyngeal angiofibroma, and paraganglioma
Nosebleed
Extracranial vacular malformation
Traumatic vascular lesions
Cerebral vasospasm
Vertebral body tumor
Compression fracture of the spine (vertebroplasty and kyphoplasty)
Spine pain (nerve and facet injections)
Boise Radiology Group offers board certified, highly trained and experienced physician expertise in these technically demanding procedures to enhance successful outcomes and minimize complications.