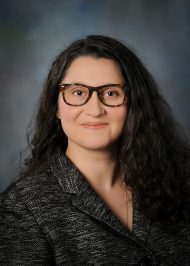 Born in Boise and raised mostly in the Portland, Oregon area, she received her undergraduate degree at Portland State University, graduating Summa Cum Laude, after studying abroad for two years at Saint Louis University in Madrid, Spain. That set the stage for earning her medical degree at University of Washington School of Medicine in Seattle, where she graduated with honors. She completed her Diagnostic Radiology residency at the University of California, San Francisco, with Fellowships in Women's Imaging and Pediatric Radiology at Oregon Health & Science University in Portland.
Dr. Basta has co-authored numerous research papers and articles, and her areas of special interest include breast imaging and intervention, gynecologic and high risk obstetric ultrasound, and pediatric imaging and intervention.
In her spare time, Dr. Basta enjoys spending time with her husband, four young children, and dog, and celebrating her Basque heritage.