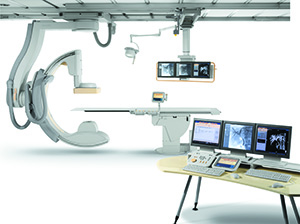 Boise Radiology Group has maintained the leading position in interventional radiology in Idaho for an ever-widening range of conditions.
Our interventional section provides expertise and experience in a broad range of therapeutic and diagnostic procedures, including:
Gastrointestinal interventions: gastrostomy, gastro-jejunostomy tube, GI tract stenting, biliary stenting, biliary stone removal
Oncologic interventions: biopsy under CT and US guidance, chemoembolization, radiofrequency ablation
Genitourinary interventions: nephrostomy; stent placement, stone management
Orthopedic interventions: vertebroplasty, bone biopsy
Vascular access: PICC line, port-a-cath placement, Hickman and central line placement, management of complex vascular access problems
Venous interventions: IVC filter, venous occlusion, thrombolysis
Vascular interventions: embolization, treatment of vascular malformations, treatment of hemorrhage
All of our Interventionalists are board certified and have completed interventional radiology fellowships. All vascular and nonvascular procedures are available at both St. Luke's campuses (Meridian and Boise).
As interventional applications and procedures become proven, Boise Radiology Group will remain at the forefront of offering these new advancements. Our role is to offer area physicians an efficient, reliable and knowledgeable resource to help lower patient complication rates and quicken the recovery times.
Distribution of diagnostic reports and referral images are available via secure internet transfer. We welcome the opportunity to arrange physician and patient consultations.
For more information about any/all of these procedures, go to radiologyinfo.org